Taylor Swift, for a moment there, seemed headed toward replacing carbon on the table of elements; as universal and seemingly necessary as air twas she. Had I held my breath another five or ten seconds for this media tsunami to pass. Had I not come up for air, me, Spotified, I might have stopped myself from listening to Taylor Swift ever since forever; death being the only escape.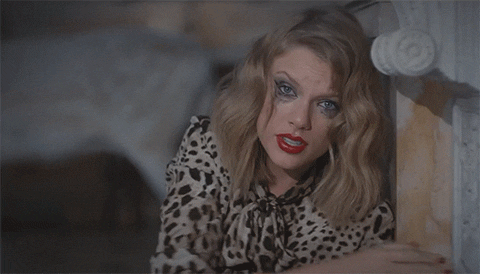 Back when I stopped caring to keep up with the top of the pops the internet, always one to surprise/astonish/amaze/inform/annex all gray matter, started serving up these things called mash-ups. And sure as Instagram can make Hillary Clinton hip, saccharine ear fodder of the era suddenly became, well at least tolerable if not flat out hilarious. Until Metallica and Jay-z got sad people with madder computer skills than their own (as in none) were taking coke from the spoons of their baby-mamas, sharing these files meant fun. Then came lawyers. There went fun. So I pensared.
Mash-ups never went away, I did. Until now. Taylor Swift mashes with the best of them. I've seen it for myself. But because this old MacBook,  no jugar nothing streamed, I can surmise from a gander at the gifs accessorizing said mash-ups; these mash-ups are also really flippin' awesome at partying.
The Taylor Swift colonization was all like a couple tetra-byte years ago, and now, sadly, Maddonna, after one of those unchoreographed old people falls (yeah, right?), has once again taken to flashing me in my brain pan and popping up in my inbox and adroning the hood's back-alley walls. In an attempt to honor the grand dame of divas – ideally before Dame Judy Dench plays her in the Truth or Dare remake – I husltled up a culinary mash-up, reuniting a star-lit couple who've cleverly come together again via guerrila marketing:
One part Madonna UK (shepherds pie) the other Sean Penn's lengua (Morita/steak chili), this dish kinda actually eaten prior to these posters and these ruminations needed a theme more descriptive of the flavor than the origin story I originally planned to post along with it.
Cooked up btw Taylor and Madonna, the Oscars 2015 era, at first bite, I originally thought I'd struck on a sure-fire winning recipe for another cultural cranial colonization, culinary: some kids being the next top chef Food Network fodder, my version, with the rules based more in reality than on viewer demographics.

Me, your host: "The rules are simple kids. Choose as many pre-prepared courses as you like from the cafeteria line there, take it back to your table, and mash-up all the food on your tray, just like you do at school. We'll then have our celebrity chefs eat every last bite and not be allowed to leave their seats until they do." Believe me you, by leaving out the chocolate milk and spit, I concocted a sure-fire winner.
And even this version de el origen should only be taken at face-value. Both the pie and the chili have their own origin stories.
The Shep-Pie origins, three words:
too much BBC. (Hence, the Madonna christening).
The chili, on the other mano, was a failed attempt to re-create a steak/pinto/chile chili I'd already blogged on too long about not so long ago. The ingredients remained the same but one: the chili pepper. For the uninitiated, like twas yo, moritas are smoked, dried red jalapenos. Their green cousins, the chipotle, are nothing less than smokey, juicy, god pods; one of el mundo mama's most deliriously original and infectiously mliagros.  So you figure, morita = the second son. NSM. Moritas, at least the batch I bought (along with several other dried peppers who brought the divinity to Santa Sangre Salsa), prepped, chopped and stewed with steak, onion, garlic, pinto, salt, pepper, Mexican oregano, tasted like ash. ASH. And since for as long as we've known one another, Sean always has a Marlboro red dangling from his scowl, ergo this chili I deemed worthy of his namesake.
Which brings me to the third – or is it fourth – origin story: I work with several people with their own origin stories, in Mexico. It has been noted here antes how they've accused me of being "more Mexican" than them. Unbeknownst to me at the time of mashing up these two dishes, in addition to reuniting Seandonna/Madpenn and concocting a sure-fire "My Kid Can Out Cook Your Kid" champion, I also honored all of Mexico by not being the typical gringo/Americano and tossing out my epic chili fail. On the same night I brought my mash-up to work – a single serving – a co-worker who'd just returned from an annual family trip to Oaxaca shared a confession with me: 'I am always reminded of how North American I am whenever I go home. This time, on the way into the cathedral in the zocalo I tried to toss out half a candy bar and missed the garbage can. The security guard came up to me and said 'Senor, in Mexico we do not throw away food' and so I sat there and guiltily ate it."
I ate mine and lived to tell about it too….